Get Your Own Phone Exchange!
Bangla Phone introduced the IP PBX system for the first time in Bangladesh. Set up your own Phone Box Exchange (PBX) at your premises and talk FREE within your exchange! Bangla Phone provides PBX setup with 16, 32 and 48 Phone lines. Make your choice now and start saving on your company's telecommunication costs!
Modules of Bangla Phone IP PBX:
Basic Call processing Features
Call Monitoring
User Administration
CDR & Billing Information
Features of Bangla Phone IP PBX:
Make Call: All kind of local calls (inside System) and incoming and outgoing call to national / International.
Automated Attendants: Caller will hear automated IVR-based services (like welcome to IP PBX, for sales press 1, for service press 2 etc.).
Call Conference: Caller can participate in a conference dialing a conference number.
Call Transfer: One agent can transfer the call to another agent. The transfer may be blind or attended.
CDR: Call Detail Records will be available for reporting.
Call Monitoring: System Admin will be able to monitor the active/idle calls and also live conference.
Call Waiting: For currently unavailable user, a caller can be held on wait.
Caller ID: Display caller ID on Phone's display unit.
IVR: A process to prompt and collect user information.
Music on Hold: While waiting caller will hear music.
Call Back: Performs call back to the last caller, no need to remember the caller's number.
Voicemail: Caller can leave Voice-messages for recipient, who can call back to caller. Every user in PBX system will have a voice mail account, where S/he can log in to hear voice mail.
Call Record: All incoming or outgoing call can be recorded.
Real Time Billing and Report: Real time billing and all kinds of customized reports can be generated.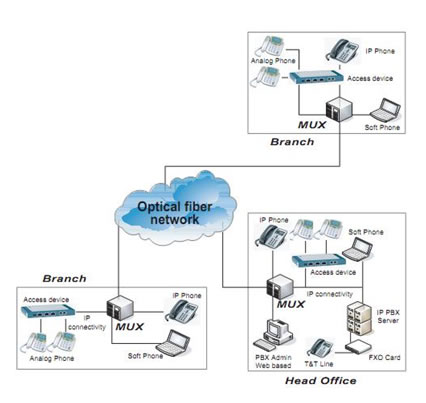 Figure: IP PBX Solution
Power SMS
Bangla Phone SMS services to end users through web service and smartphone apps. We offer single, group, and bulk SMS to end usrs at a competitive cost. Our features include:
Single SMS to single user, e.g., exam score
Bulk SMS to multiple users
Group-based SMS
Scheduled SMS
Bangla SMS
MMS
Push-Pull SMS
Long SMS
SMS reception via web account
Export SMS to files
Support for Short code/Long code
Free Android App!
Visit powersms.banglaphone.net.bd to learn more!